Main Content
About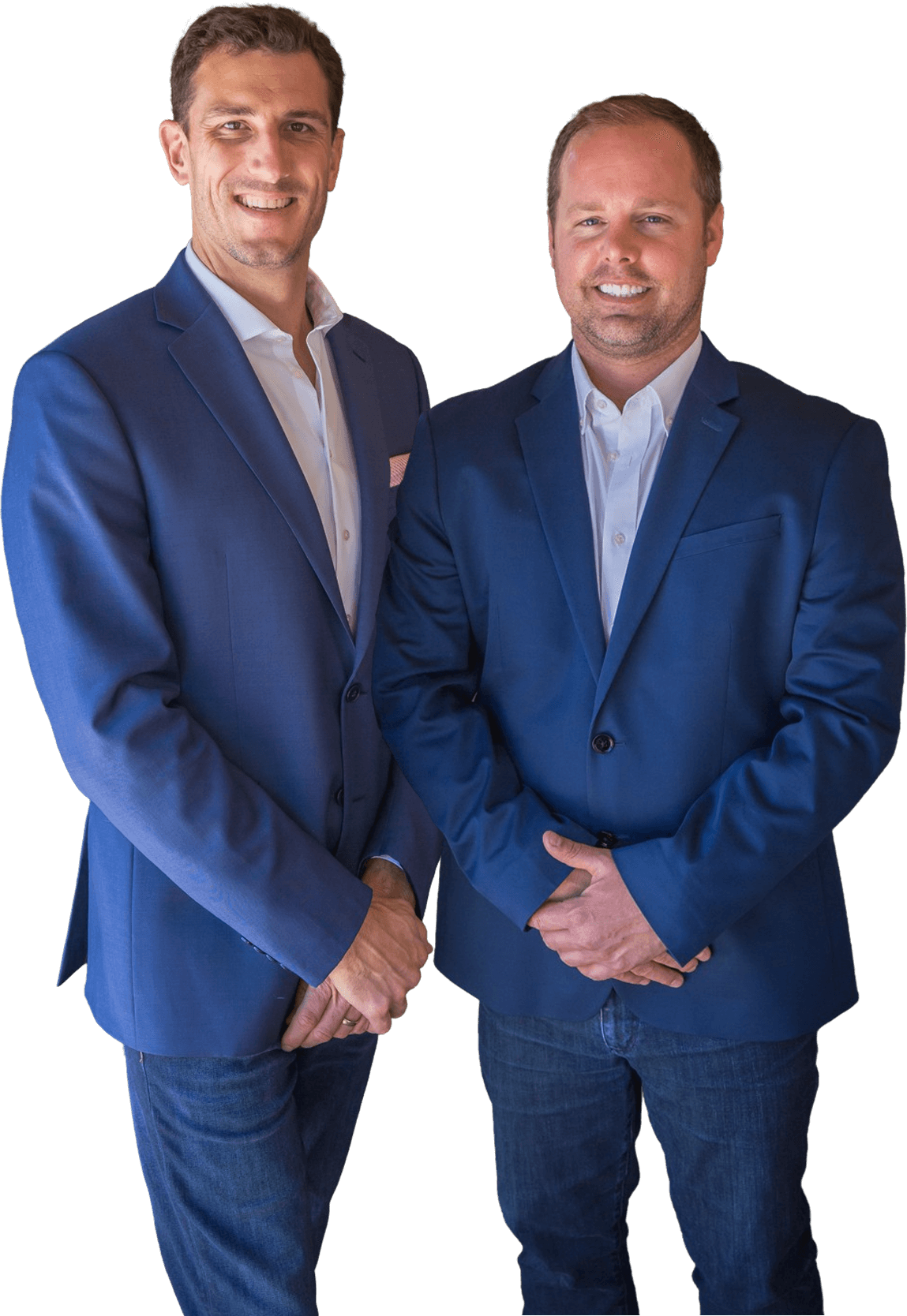 TYLER BROUSSEAU
Tyler Brousseau can best be described as a man of high energy and a passion for Ojai real estate. One only needs to spend a few minutes with him and you will experience his excitement for all things Real estate.
CLINTON HAUGAN
Being born and raised in Ojai California has truly been a blessing for Clinton Haugan. An important component to being a Top Producing Realtor is in the knowledge you possess and the ability to convey that knowledge to clients; and Clinton's knowledge of the Ojai Valley is unmatched
Testimonials
Both Clinton and Tyler did a great job of jumping through a lot of hurdles to get our home sold. Clinton who was our main contact constantly reminded us that everything would work out and it did. We would recommend them to anyone who is looking for a fast sale and everlasting friends.
Wonderful experience with these two brokers! They were able to maximize a seller's market. They were helpful and honest as well as hard working. I would recommend them to anyone who wishes to buy or sell real estate. Good job!
I highly recommend Clinton if you are looking at property in Ojai. He understood our needs and was always available to guide us through our search. Always optimistic, he lifted our spirits and kept our vision focused when we were thinking of ending our search. His partnership with Tyler and their ability to negotiate a fair price brought us to our dream home!
Tyler is an excellent realtor. He takes the time to find out exactly what you are looking for when purchasing a house. He also made sure that we were very happy with what we were getting when selling our house. He is detail oriented and consistently checked in with us to make sure we were happy with the progress of things. He is kind, thoughtful and keeps his clients as the number one priority. I highly recommend Tyler when buying or selling!!
Clinton Is the only one responsible for my wife and I having a home in lovely Ojai. He was professional, honest, responsive, easy to deal with, a joy from beginning to end. He had answers to questions before we asked them. I have bought a number of properties in the past Clinton made this journey the easiest and the smoothest by far. During such a nerve-racking process it was great to feel we had a friend by our side. Clinton made it happen. I would recommend him to anyone who wants to buy a property in Ojai.
Tyler Brousseau was great to work with and I would highly recommend him as a realtor. Tyler made the process of buying a house very easy by truly being a representative for my wife and I during the transaction. He was always available to go see a house, answer a question, or review a document. Tyler went above and beyond to make sure the process was smooth and easy for us. Often taking the initiative to make sure everything moved forward. After working with Tyler it was clear to see that he has the experience and professionalism that one would like to see in a Real Estate Agent. If a friend was buying or selling a home I would highly recommend Tyler to them.
Clinton is not only an incredible realtor but an exceptional human being. He is kind, funny, knowledgeable, always one step ahead, compassionate and always excited to share Ojai and the Ventura area with his clients. It was an absolute joy to work with him. I come from a family of realtors and would pick Clinton time and time again! Happy house hunting!
Tyler Brousseau provided me with a very professional reality experience, he showed excellent integrity, while always keeping me well informed of all matters in regards to selling property. Also, Tyler came up with number, I was happy with, Tyler listed property promptly and had a very successful open house while receiving multiple offers of asking price during first week of property on the market. I was very pleased with the service I received and would not hesitate to hire or recommend Tyler for their real estate needs. Joel
I met Clint when he was working with my daughter and son in law in getting them into their beautiful home they have now. I was moving from the Fresno area back to Ojai and Clint was very professional, kind , caring and worked very hard in finding me my new home, which I love so much. Every time I called him to go see a place he was right there to show all these places. I would recommend Clint to all my family and friends. He has a good heart and won't stop until he finds the right place for you. Thank you Clint for all your hard work and friendship. Love my new home.
I have used Tyler as my realtor to purchase two homes as well as sell one of my homes! Tyler is the most passionate, professional, and dedicated realtor I have ever had the pleasure of working with. His responsiveness will blow you away! If you have the chance of working with Tyler I highly recommend him!
Working with Clint was great! He listened carefully to everything we were looking for and he showed us a ton of great properties. I had lots of questions and he always made sure to answer, if he didn't know, he followed up later. He was really patient and so easy to work with. It was such a pleasure to work with him, I would recommend him 100x over. We can't wait to move into our new house, thanks to Clint.
I was so lucky to find Tyler. I am an out of town buyer and really needed to rely on my agent. Tyler was always prompt in getting back to me which I value extremely highly. I had to make several calls to him and conduct business over the phone after we found the property we were interested in. He went above and beyond the call of duty in the time he put into my transaction. He is professional, courteous, prompt, and knowledgeable. He was able to refer other professionals for work I needed done. I would use him again in a heartbeat
Clint is friendly and really knows the local area. He heard our needs and dreams and helped to make that all come true. I would highly recommend Clint for his determination and reliability to help you find the home you want and the appropriate loan officers to help get the best value.
Tyler possesses all the needs of an agent...honesty, integrity, intensity, professionalism and most of all patience. We were fortunate to have him assist us with this process and will continue to use him and refer him!
Clinton was a joy to work with. Having done many real estate transactions in the past, quick communication is extremely important for us and sometimes necessary to close a deal. Clinton always responded within minutes and was able to provided needed information. Due to Clinton's attention to detail and focus on us and our transaction, we closed on our property ahead of schedule. We appreciate his time and experience.
First, I hardly ever provide reviews (shame on me), but I had to write a review for our realtor, Tyler. We had been looking to move to the Ojai area over the last few years - long distance. We were introduced to Tyler in August of 2014 as someone who is responsive and 'eager' to help and provide you the best experience possible. This very much proved to be the case. Not only did he find my husband and I are 'dream home' (within 2 months), but through-out the whole process he was completely hands on and had great follow-up in communication during the purchase, escrow and close of the property. After we closed on our place, he stayed engaged to assist us in being introduced to good local trades people to get the house ready before we moved in. Now that we here in Ojai, he continues to be of great assistance and support in helping us feel very welcome in our new community. Thank you, Tyler!!
A friend of mine recommended Clinton to me when I told her that I was ready to take the plunge and purchase a home in the Ojai Valley. From our first meeting, Clinton was warm, attentive to my concerns, and very clearly knowledgeable about the local market. He always advocated for me and gave me sound, honest advice whenever I had questions or was uncertain about best approach regarding offers and negotiations. He was patient with me and persistent in hunting for the perfect-for-me home which I ultimately found and am truly in love with. I would absolutely recommend Clinton to anyone seeking an agent that has his finger on the pulse on the Ojai market and approaches his work with the integrity and heart.
We were so impressed when it came to working with Tyler and Clinton! They were both incredible, super responsive, informative, and helpful when it came to searching for our dream home. They were available at all hours to help us and to send documents our way through all of the steps of the home buying process. Not only that, but we loved working with a down to earth duo who we could trust and rely on along the way. In a competitive real estate market, we were so glad to have them by our side. Thank you Tyler and Clinton! We love our new home!
There is not one better than Tyler and Clinton, they are very friendly and supportive and are both brilliant at their jobs. I would recommend using their company to help you buy or sell any property in Ojai or beyond.
Our journey to Ojai started in January of 2020. We quickly realized that we needed to work with local agents. Even though Ojai is a small community it is quite vast when it comes to types of properties. Tyler and Clint were beyond patient with our family, especially in the midst of not only a pandemic but a husband and wife duo that were on two totally different pages when it came down to what they were looking for in a property. Tyler and Clint literally showed us every property in the valley. Luckily our collective patience paid off and worked in our favor. Tyler had a little gem hidden in his back pocket. The perfect property the checked off all the boxes. Here we are in January of 2021 and couldn't be happier to now be able to call Ojai our home. We are forever grateful Tyler and Clint, can't wait to have y'all over for summer pool parties!
Connect With Us